COLLECTIBLE GIFTS ARE FREE WITH FULL-PRICED PAID HALL OF FAME ADMISSION ON SATURDAYS AND SUNDAYS WHILE SUPPLIES LAST. GIFTS ARE ALSO INCLUDED WITH HALL OF FAME MEMBERSHIP PACKAGES.
Visit redsmuseum.org for more details.
AVAILABLE ONLY TO MEMBERS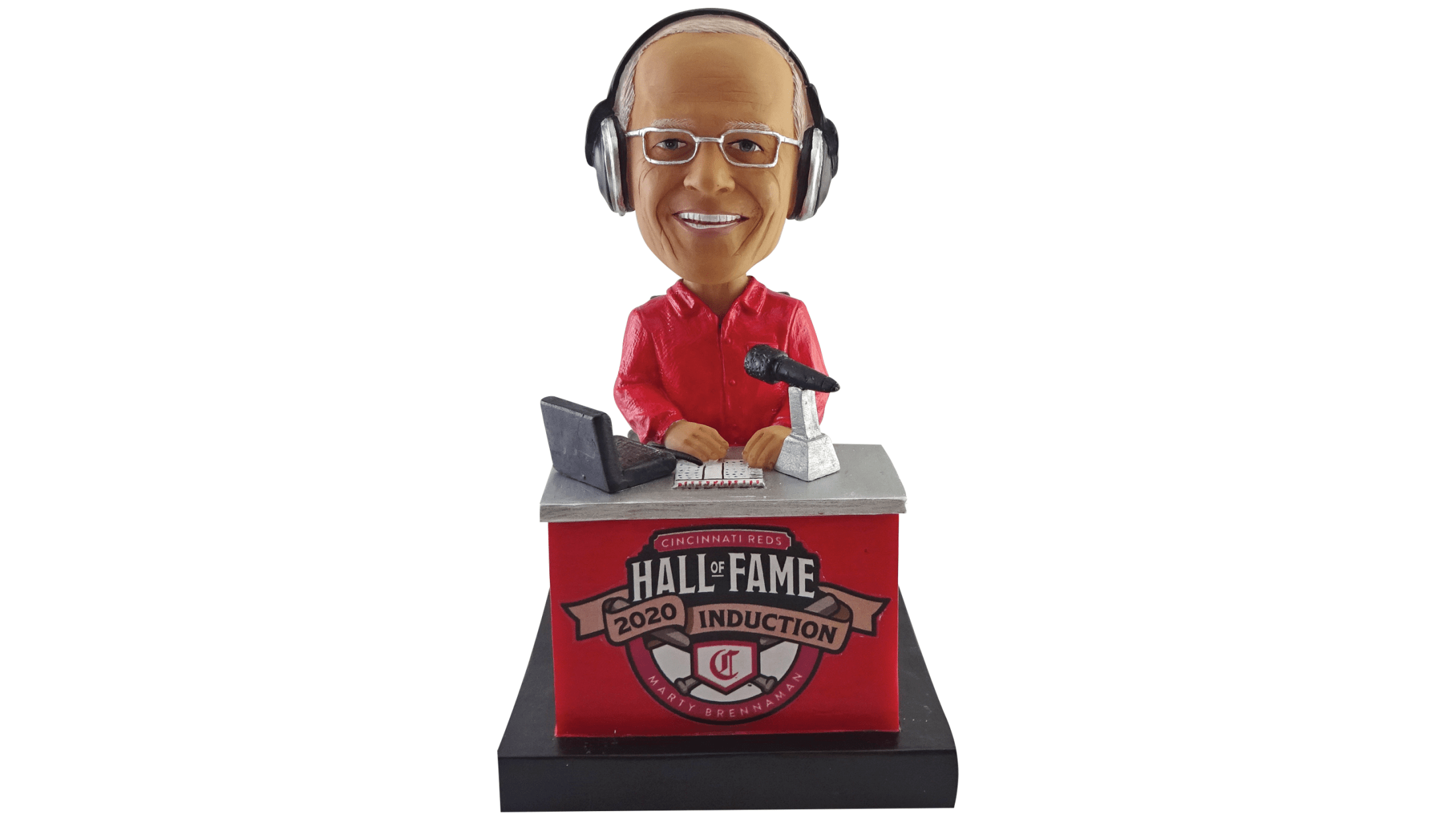 MAY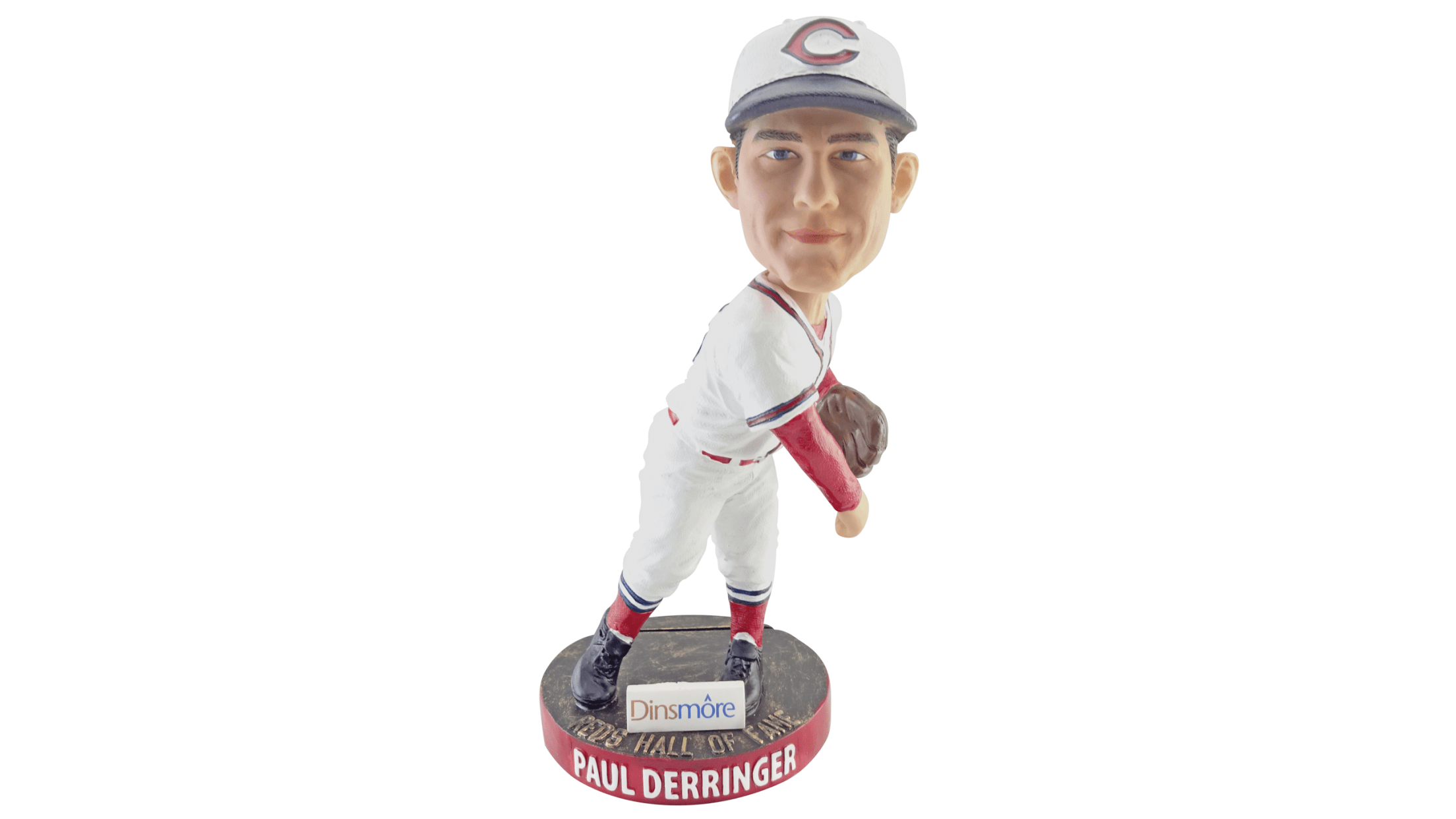 Paul Derringer
Eighty-five years ago, on May 24, 1935, Paul Derringer was the starting pitcher in one of the most historic games in Major League history. It was on that night, that Cincinnati's Crosley Field played host to Major League Baseball's first night game. Derringer limited the Philadelphia Phillies to six hits and one run in a complete game, 2-1, victory. Five years after starting that historic contest, Derringer clinched the 1940 World Championship for the Reds, limiting the Detroit Tigers to seven hits and one run in another complete game, 2-1, Reds victory. A six-time All-Star, Derringer pitched for the Reds from 1933-1942 and, in 1958, was one of the five Reds greats who comprised the Reds Hall of Fame's inaugural induction class.
June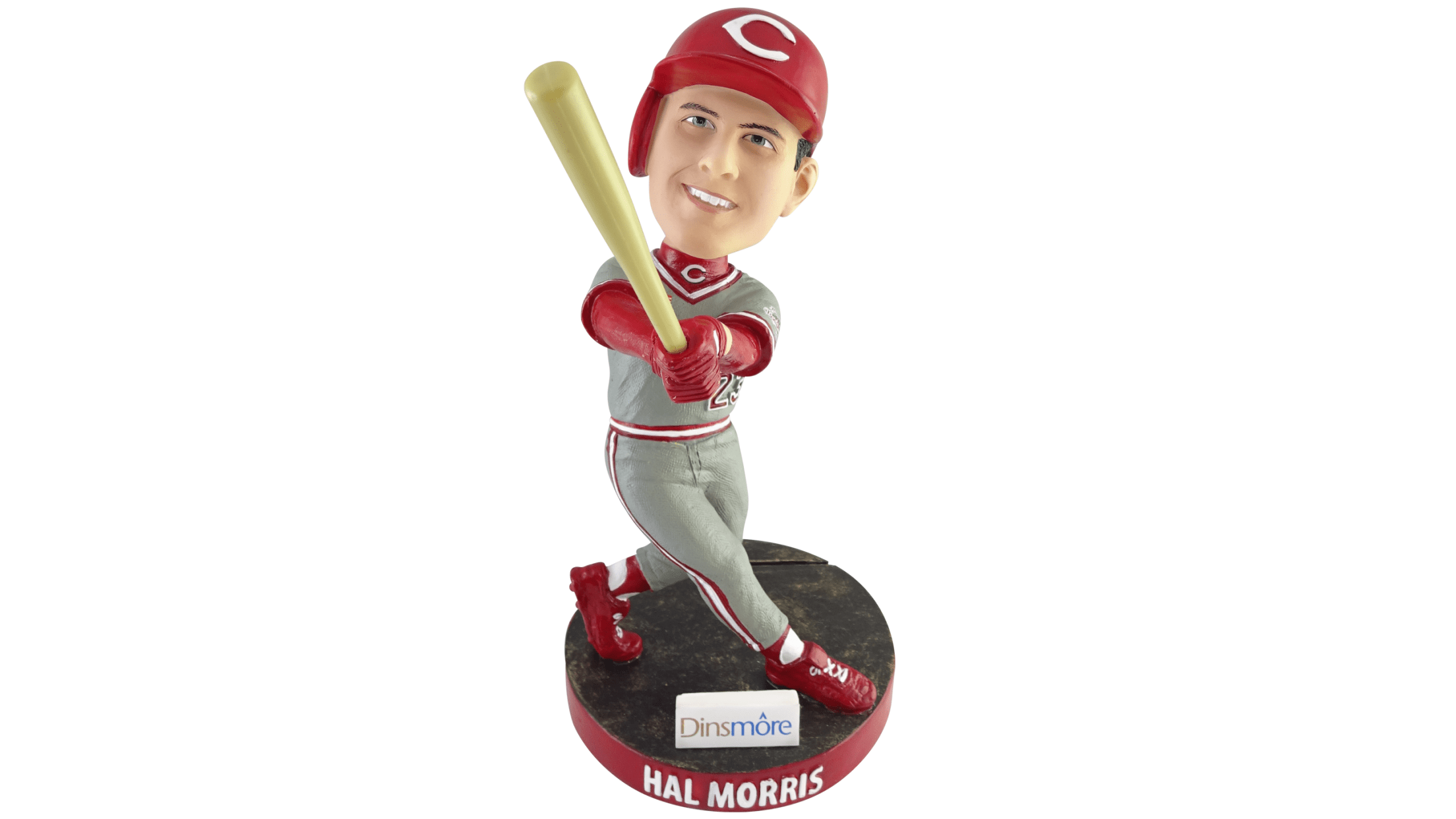 Hal Morris
A tribute to the 30th anniversary of the Reds' 1990 World Championship, this bobblehead replicates the moment when Hal Morris drove in the winning run in the Reds', 2-1, World Championship- clinching victory over the A's in Game 4 of the World Series. Acquired in a trade with the Yankees on December 12, 1989, Morris hit .340 in 107 games for the Reds in 1990 and finished third in voting for the National League Rookie of the Year Award. A Red from 1990 - 1997 and again from 1999-2000, Morris's lifetime .305 average in a Reds uniform has been exceeded by only twelve players in franchise history and his .307 cumulative mark in the 1990s paced all Reds hitters in the decade
July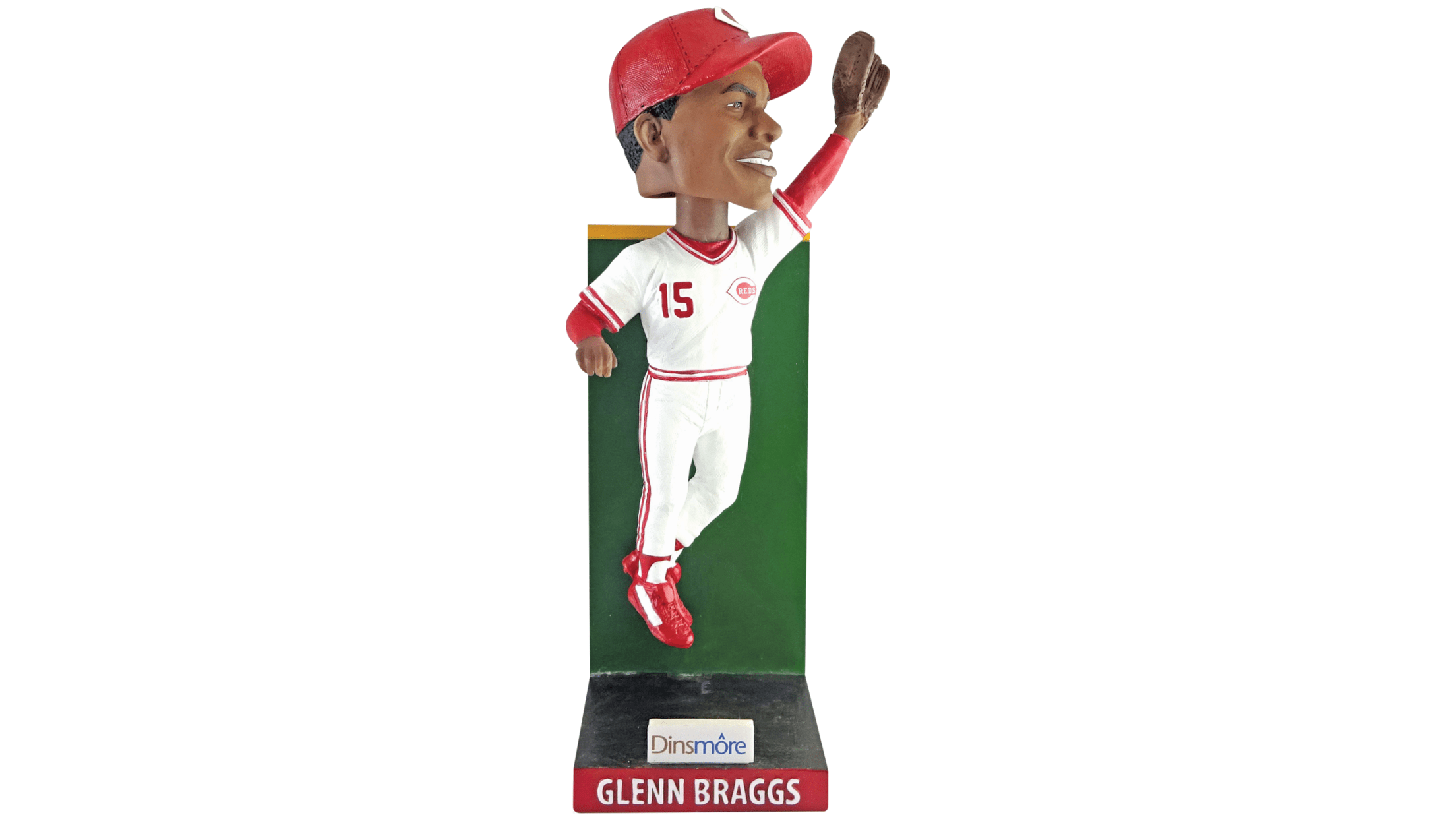 Glenn Braggs
In the 30th anniversary year of the Reds' unforgettable wire-to-wire World Championship season, this bobblehead captures one of the most important catches in Reds history. In the top of the ninth inning of Game 6 of the 1990 National League Championship Series at Riverfront Stadium, the Reds held a 2-1 lead over the Pirates. Randy Myers was on the mound with one out and a runner on first when Carmelo Martinez belted a long fly ball to deep right field. Glenn Braggs drifted back and made a leaping catch over the wall that took a home run away from Martinez and preserved the Reds' lead. Myers struck out the next Pirates batter and the Reds were National League Champions.
August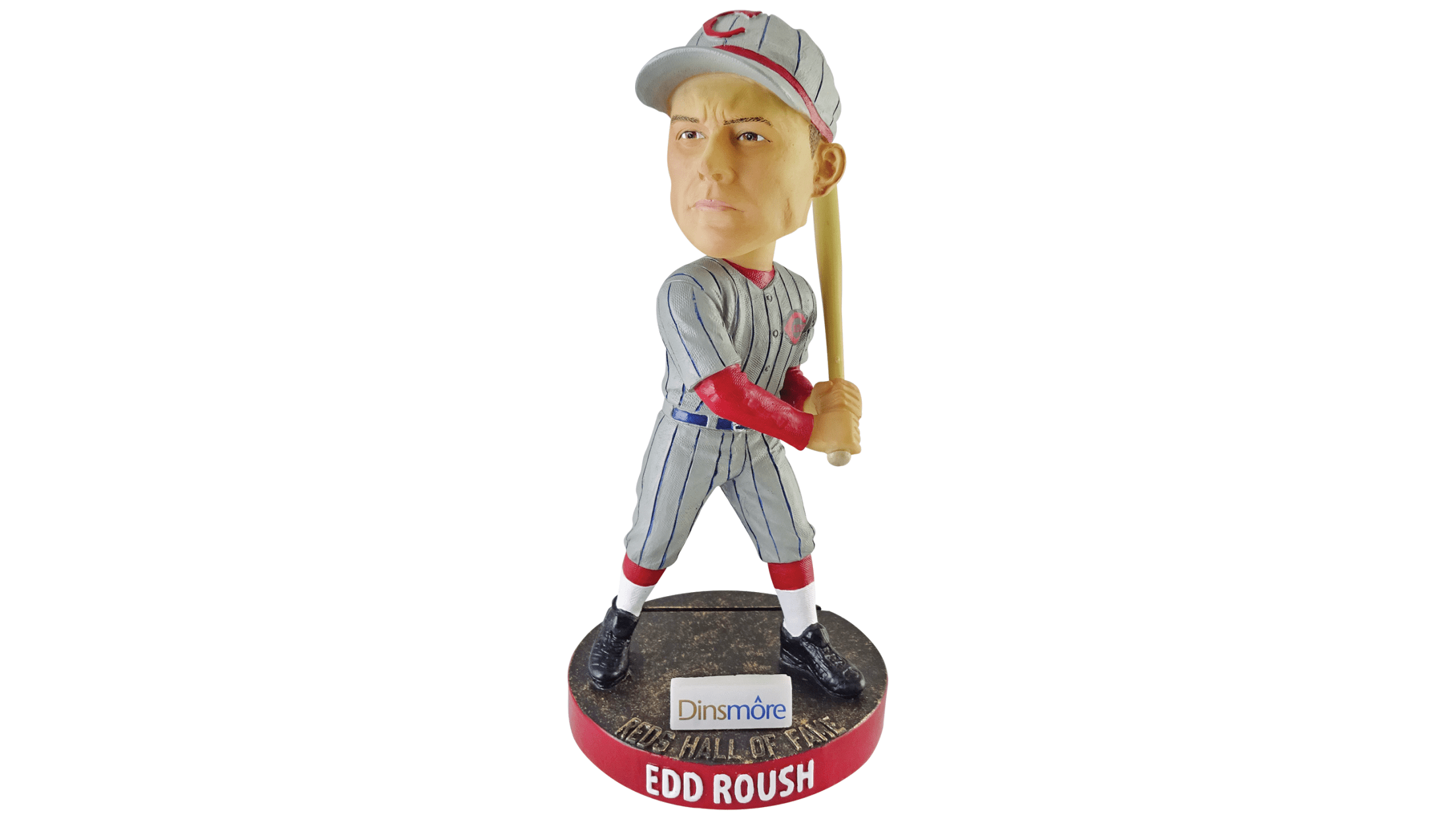 Edd Roush
From his first full season with the Reds in 1917 through 1926, centerfielder Edd Roush was the Reds' biggest star. Roush topped the National League in batting in 1917 and won a second betting crown during the Reds' 1919 World Championship season. At the time his playing career came to an end, Roush ranked second in franchise history in hits and at-bats, and his .331 average as a Red is still the second-highest in franchise history. Roush was voted into the Reds Hall of Fame in 1960 and two years later, he became the first player inducted into the National Baseball Hall of Fame as a Cincinnati Red. In 1969, as part of baseball's centennial celebration, an all-century Reds team was selected that named Roush as the starting center fielder and the club's greatest overall player.
September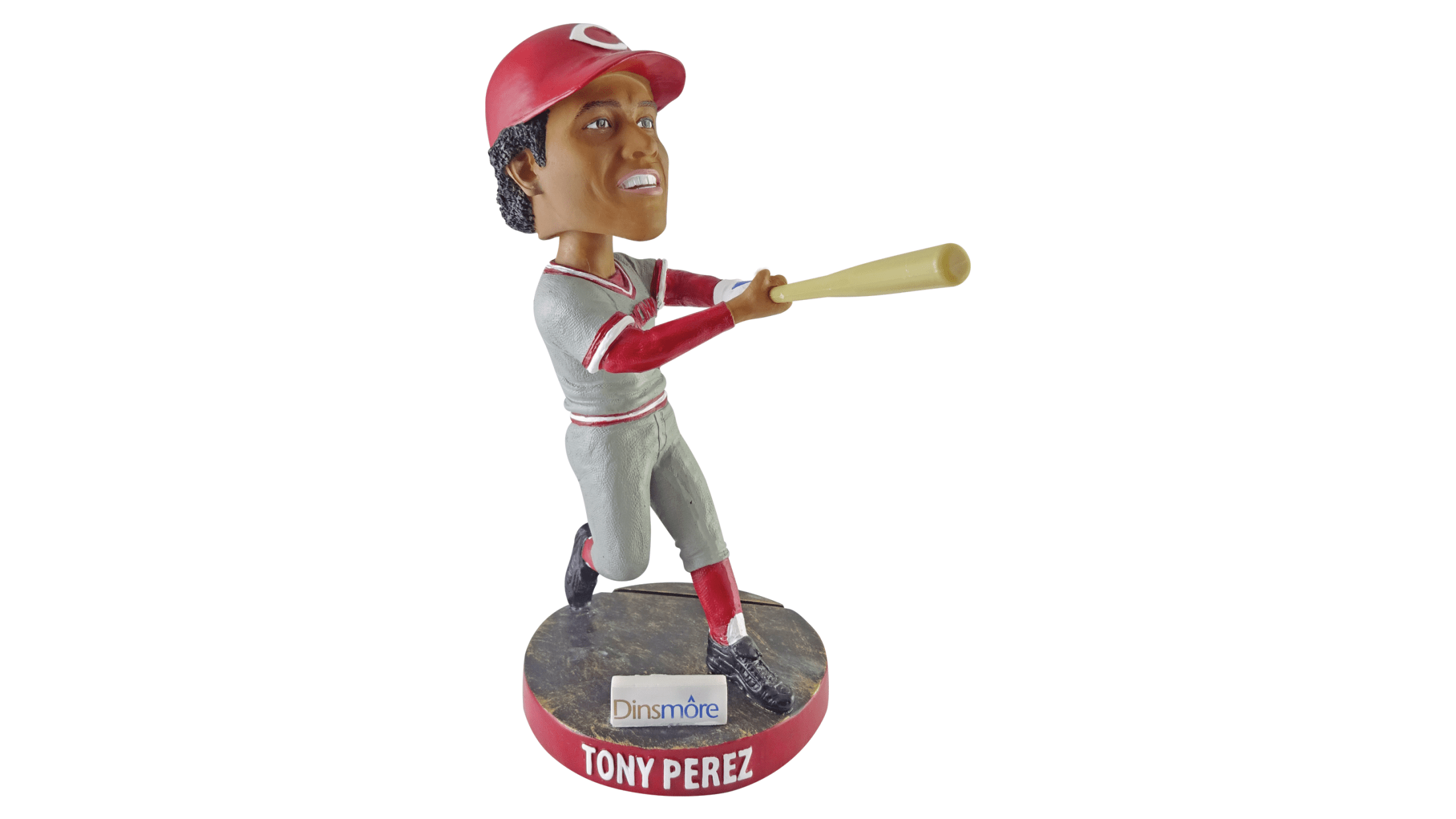 Tony Perez
One of the most popular players in Reds history, Tony Perez was one of the greatest clutch hitters and run producers of his era and helped lead the Big Red Machine to consecutive World Championships in 1975 and 1976. Perez's ability to drive in runs came to define his career. He averaged more than 100 RBI per season from 1970 to 1976, achieving a career high with 129 for the 1970 Reds team that won the National League pennant. Perhaps his most important RBIs came in Game 7 of the 1975 World Series when his two-run home run helped propel the Reds to a 4-3, come-from-behind victory. A 7-time All-Star during his Reds career, Perez returned to the club after his retirement and was a key member of the coaching staff that helped guide the 1990 Reds to a World Championship. Perez was inducted into the Reds Hall of Fame in 1998. Two years later, he was inducted into the National Baseball Hall of Fame and had his uniform #24 retired by the Reds. In 2015, a statue of Perez was installed at the entrance to Great American Ball Park.
New Bag Policy at GABP
To enhance ballpark security and expedite the screening process, backpacks will no longer be allowed into Great American Ball Park. Acceptable items include purses, medical bags, diaper bags, briefcases, drawstring bags and Reds Heads Kids Club bags along with small soft-sided coolers that do not exceed the 16" x 16" x 8" MLB size requirement.