---
College Scholarship Plan (CSP)/ Continuing Education Program (CEP)
We recommend you review your first professional baseball contract. Your Club may have provided you with a College Scholarship Plan (CSP) or Continuing Education Program (CEP) funds to help you attend an institution that offers training for personal and professional development. A CSP provision would allow you to attend a university or college, provided your studies are in pursuit of an undergraduate degree. A CEP provision would, in addition to these options, help you attend a vocational training school and/or pursue a postgraduate degree.
CSP and CEP funding may be used in the United States or abroad when the foreign organization or institution is accredited by a body that is deemed to meet U.S. Department of Education standards. There is a two-year window to commence studies after you stop playing.
For additional information about your eligibility, please visit: www.mlb.com/scholarship. If you have general questions about the CSP or the CEP, please contact Rich Hunt at rich.hunt@mlb.com; 212-931-7848.
---
Northeastern University
Northeastern University is a global research university with a rich history of helping learners engage with the world. Through a partnership with Major League Baseball, Northeastern's experiential learning opportunities help you work with and solve real challenges for industry-leading companies across the globe while you earn your degree.
Benefits of a Northeastern degree include:
18 different bachelor's completion programs in high-demand fields
150+ graduate programs to choose from
Programs that are available 100% online
College Scholarship Plan (CSP) or Continuing Education Program (CEP) funds can be used towards your degree.
English Language Requirements
If you are considering Northeastern University and are an international student, please click here to be directed to the English Language Requirements page.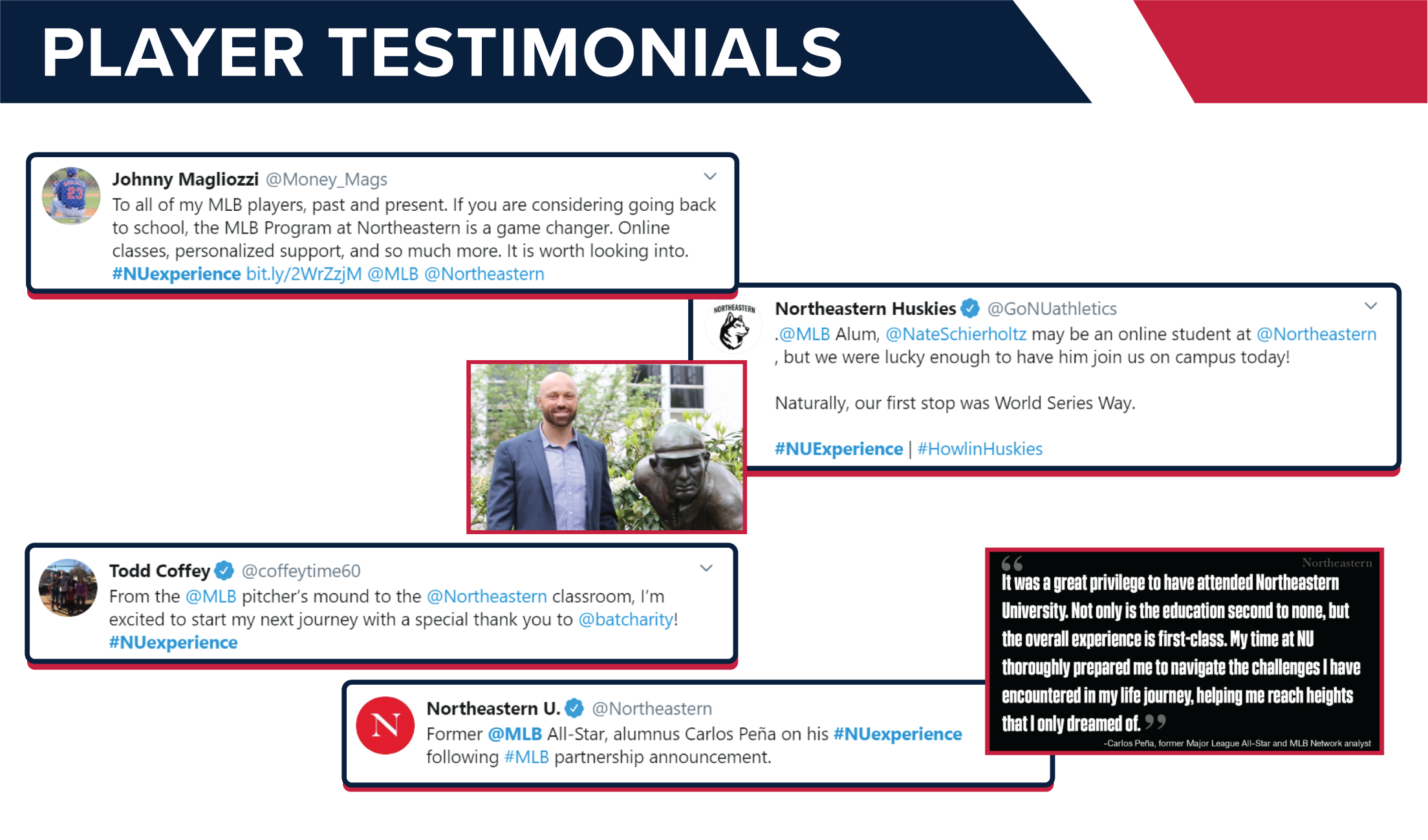 Career & Education Consultation
Set up a free, 30-minute career consultation with an advisor dedicated to players to figure out your next step.
Get resume, interview and career tips at northeastern.edu/cpscareerx. If you have difficulty logging in, please call technical support at (855) 836-3520.
To learn more or schedule an appointment with a Northeastern University advisor, please contact Dan Queen at d.queen@northeastern.edu or visit www.northeastern.edu/mlb.

---
Baseball Assistance Team (B.A.T) Scholarship Fund
The Baseball Assistance Team (B.A.T) may also be a resource to help players with the cost burden (living expenses and tuition-related costs) for continuing their education. Go to the Baseball Assistance Team Scholarship Application to learn more.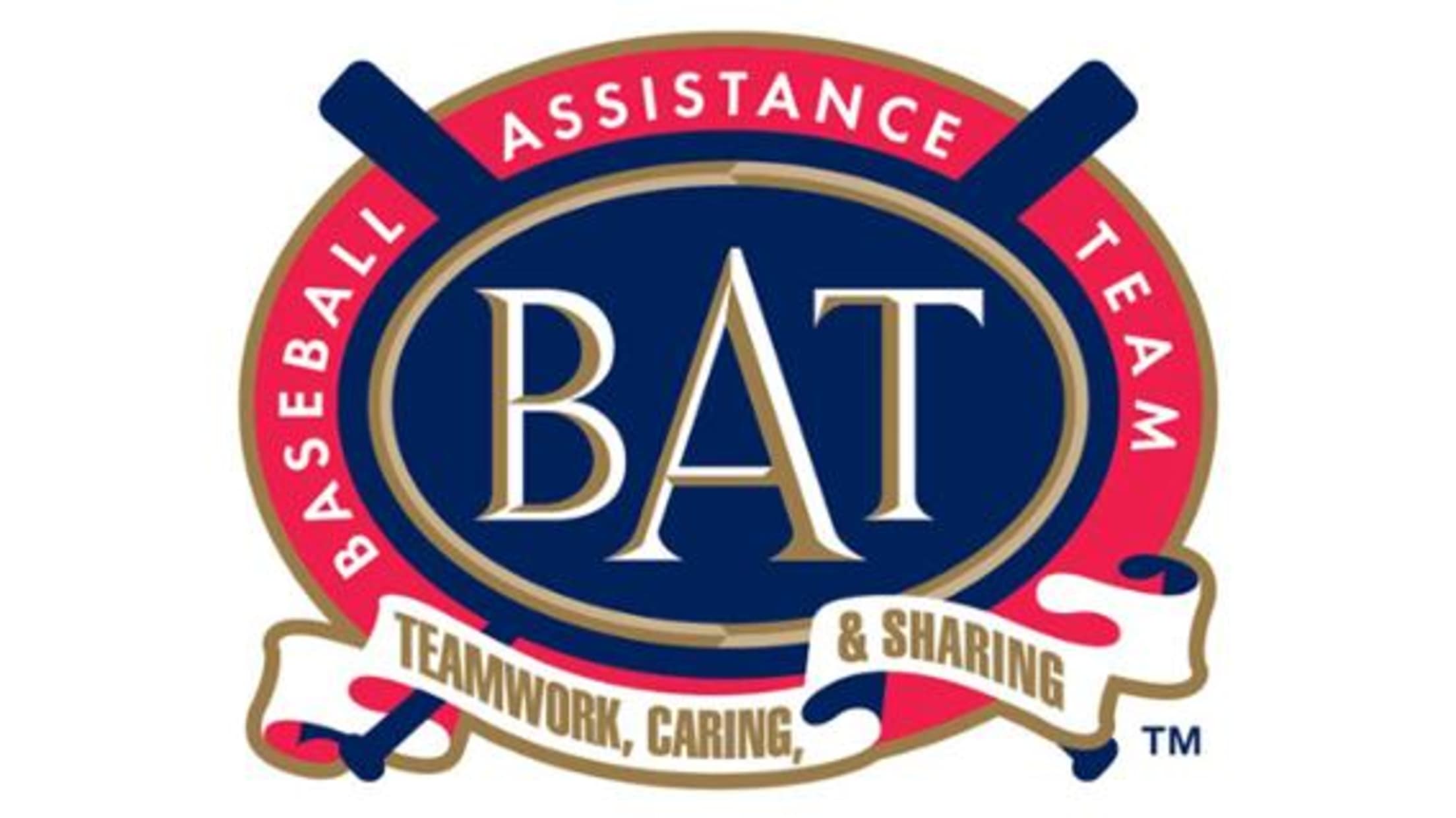 ---
Programs in the Dominican Republic
Former Player Program
Major League Baseball understands that transitioning from being a professional baseball player can be challenging. The Former Player Scholarship Program helps former players in the Dominican Republic start or continue their education journeys. Former MLB players can apply to receive educational scholarships in order to enroll in universities, technical/vocational schools, language programs or high school completion programs.
For more information about the program or to verify your eligibility, please email fpp@mlb.com.
*This program is currently only available for legal residents of the Dominican Republic.
High School Program
The program was created to help players in the MLB DR Academies start or continue their high school education while pursuing their dreams of playing professional baseball. The program is supported by MLB and is operated by MLB Clubs via a blended (online and in-person) format. The goal of the program is for players to work toward obtaining their high school diploma, while playing baseball.
To learn more about the program and the benefits of taking advantage of this opportunity, please contact your club's education coordinator or academy administrator.
For more information about MLB's role in supporting this program, please contact Francisco Yegres at francisco.yegres@mlb.com.
---